Palm Beach County

,

FL

: Family Law Lawyers, Attorneys and Law Firms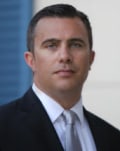 Tremendous patience and an extraordinary ability to navigate challenging family matters we can help you through any situation.
The decisions you make during a divorce often have lasting impacts on your finances, lifestyle and emotional health. The law office of Grant J. Gisondo, P.A., located in West Palm Beach, Florida, is dedicated to assisting you in protecting your various interests during this difficult process. By leveraging his experience in mediation, finance and family law, Mr. Gisondo help s you pursue fitting...