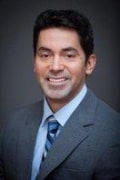 J. Alberto Salinas - Houston, TX
6060 Richmond Ave.Ste. 240Houston, TX 77057- 6262
Houston Immigration and Nationality Law Lawyer
Overview
More
Alberto...
Alberto Salinas has dedicated his practice of law to the areas of immigration, probate, and real estate law. He has previously worked at the Law Office of Adan G. Vega & Associates, P.L.L.C. as an immigration law clerk and as an attorney. He has also been active in offering pro bono services to indigents in Texas.

Prior to law school, Mr. Salinas worked as a mortgage loan officer assisting people who wanted to buy houses or other real estate. Whether serving first-time home buyers or sophisticated buyers locking for a second home or investment property, Mr. Salinas helped guide clients through the mortgage loan process helping them to feel comfortable and confident as they made decisions about their financial options. He developed business relationships with realtors, builders, bankers and housing organizations.

Mr. Salinas has worked extensively in the area of immigration and nationality law. He has successfully represented clients before the Department of Homeland Security and U.S. Citizenship and Immigration Services (USCIS), as well as through filings with U.S. Consulates. Mr. Salinas has helped many companies and individuals handle an array of immigration cases with a variety of issues including nonimmigrant visas (H-1B, E-2, L-1, TN), employment-based and family-based immigrant petitions, permanent residence (green card) applications, naturalization, adjustment of status, deferred action, USCIS RFEs, removal/deportation, immigration appeals and numerous other filings. Mr. Salinas is fluent in Spanish and will strive to serve his clients with creativity, sensitivity and diligence, three qualities that are essential when dealing with immigration law issues.
Write Your Review
Fields marked with an * are required