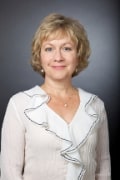 Laura L. Anderson - Melbourne, FL
2200 Front StreetSuite 301Melbourne, FL 32901
Melbourne Estate Planning Lawyer
Overview
...
More
...Laura L. Anderson
is a Florida Bar Board Certified Wills, Trusts and Estates attorney. Ms. Anderson has practiced law with Frese, Whitehead & Anderson, P.A. since 1990, after moving to Brevard County from Atlanta, Georgia. She was born and raised in Mobile, Alabama. She is married and has two daughters.
Ms. Anderson received her undergraduate degree in Economics from Florida State University, then went on to earn her J.D. from the University of Alabama, and has an advanced degree, Masters of Laws (LL.M.) in Taxation from the University of Florida. She began the practice of law as staff attorney for Alabama Supreme Court Justice Janie L. Shores, then moved to private practice in Atlanta and ultimately to Melbourne. Her practice includes representing clients in estate planning, incapacity and long term care planning matters, Medicaid planning and application submission, probate administration, trust administration, estate and gift tax planning, special needs trusts and guardianships for incapacitated adults.
Ms. Anderson has served her community and the legal profession in a number of capacities. She is a former vice chair and current appointed member of the Brevard County Commission on Aging. She served for eight years as a member of the Board of Directors and Executive Committee of the Central Florida Area Agency on Aging - The Senior Resource Alliance, and is a past president and member of the Board of Directors of the Brevard County Estate Planning Council. She has served as vice president and member of the Board of Directors of The Space Coast Chapter of the Florida State Guardianship Association, and was a founding member of the Board of Directors of Serene Harbor, Domestic Violence Shelter. She is former member of the 18th Judicial Circuit Grievance Committee of The Florida Bar. She is a long time member of the National Academy of Elder Law Attorneys and the Elder Law and Real Property and Probate Law Sections of The Florida Bar. Ms. Anderson is admitted to practice law in the states of Florida, Georgia and Alabama.
Write Your Review
Fields marked with an * are required
How do I choose a lawyer?
Consider the following:
Comfort Level

- Are you comfortable telling the lawyer personal information? Does the lawyer seem interested in solving your problem?



Credentials

- How long has the lawyer been in practice? Has the lawyer worked on other cases similar to yours?



Cost

- How are the lawyer's fees structured - hourly or flat fee? Can the lawyer estimate the cost of your case?



City

- Is the lawyer's office conveniently located?


Not sure what questions to ask a lawyer?
Here are a few to get you started:
How long have you been in practice?
How many cases like mine have you handled?
How often do you settle cases out of court?
What are your fees and costs?
What are the next steps?
Want to check lawyer discipline?
It is always a good idea to research your lawyer prior to hiring. Every state has a disciplinary organization that monitors attorneys, their licenses, and consumer complaints. By researching lawyer discipline you can:
Ensure the attorney is currently licensed to practice in your state
Gain an understanding of his or her historical disciplinary record, if any.
Determine the seriousness of complaints/issues which could range from late bar fees to more serious issues requiring disciplinary action.