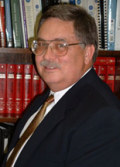 Ron W. Walton - Arlington, TX
2310 W Interstate 20Ste 200Arlington, TX 76017
Arlington Personal Injury Lawyer
Overview
Ron W. Walton is a native of Cleburne, Texas. Ron earned his Bachelor of Science in
Industrial Technology (B.S.I.T.) from East Texas State University, and his Juris Doctorate
(J.D.) from Thurgood Marshall School of Law. Ron is Board Certified in the area of Personal Injury Trial Law by the Texas Board of Legal Specialization.
Write Your Review
Fields marked with an * are required