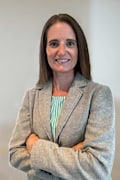 Stephanie Glynn Bernstein - Dallas, TX
14651 Dallas Parkway, Suite 144Dallas, TX 75254- 8879
Dallas Labor and Employment Lawyer
Overview
More
...
Stephanie Glynn Bernstein is a Senior Litigation Counsel with our law firm and she also shares our passion for helping federal government employees with their work-related problems. Ms. Bernstein is a graduate of the University of Virginia and Emory University School of Law, where she served as a Notes and Comments Editor on the International Law Review. Stephanie has served as an intern for a U.S. EEOC Judge as well as an intern for the U.S. Department of Labor, Office of the Solicitor and the U.S. Senate. Ms. Bernstein focuses her practice on litigating labor and employment cases, with an emphasis on employment litigation. She has represented hundreds of federal employees in EEOC and MSPB cases in administrative courts across the country and has a strong track record of successfully negotiating settlements on behalf of her clients. She also has extensive experience in arbitration hearings and sensitive investigations and routinely drafts responses to proposed discipline. Ms. Bernstein understands the administrative litigation process and knows how to advocate on behalf of federal employees to secure a favorable outcome for her clients. In her position as the firm's Senior Ligation Counsel, Ms. Bernstein also manages and supervises all of the attorneys that handle MSPB and EEO cases for the firm.
Write Your Review
Fields marked with an * are required
How do I choose a lawyer?
Consider the following:
Comfort Level

- Are you comfortable telling the lawyer personal information? Does the lawyer seem interested in solving your problem?



Credentials

- How long has the lawyer been in practice? Has the lawyer worked on other cases similar to yours?



Cost

- How are the lawyer's fees structured - hourly or flat fee? Can the lawyer estimate the cost of your case?



City

- Is the lawyer's office conveniently located?


Not sure what questions to ask a lawyer?
Here are a few to get you started:
How long have you been in practice?
How many cases like mine have you handled?
How often do you settle cases out of court?
What are your fees and costs?
What are the next steps?
Want to check lawyer discipline?
It is always a good idea to research your lawyer prior to hiring. Every state has a disciplinary organization that monitors attorneys, their licenses, and consumer complaints. By researching lawyer discipline you can:
Ensure the attorney is currently licensed to practice in your state
Gain an understanding of his or her historical disciplinary record, if any.
Determine the seriousness of complaints/issues which could range from late bar fees to more serious issues requiring disciplinary action.