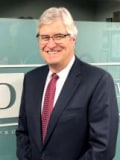 Steven D. Davis - Culver City, CA
9696 Culver Blvd.Ste. 104Culver City, CA 90232
Culver City Lawyer
Overview
More
...
STEVEN D. DAVIS was born in Hartford, Connecticut on March 14, 1950. He attended the University of the South at Sewanee, Tennessee from 1968 to 1970 and graduated from UCLA with a B.A. in Economics in 1974. He went on to obtain a J.D. degree from Southwestern University School of Law in 1979. He began his legal career at the District Attorney's Office in Bakersfield, California where he practiced as a Deputy District Attorney until 1983 when he joined the law firm of Fonda & Garrard. In 1985, he became a partner at Fonda Garrard Hilberman & Davis where he remained until 1997, when he co-founded Garrard & Davis, LLP, with his partner, Donald Garrard. In 2014, Mr. Davis founded the Steven D. Davis Law Group, APC, after an amicable separation Mr. Garrard, who remains Of Counsel to the Steven D. Davis Law Group, APC. Mr. Davis is AV Rated by Martindale Hubbell and a member of the American Board of Trial Advocates (ABOTA) at the Advocate level. He is admitted to practice law in the State of California, the United States District Court, and the United States Supreme Court. He is a member of various legal associations including the State Bar of California, the American Bar Association, and the Los Angeles County Bar Association. In his free time, he enjoys time with his family, golf, skiing, deep sea fishing, and volunteering in the community.
Write Your Review
Fields marked with an * are required
How do I choose a lawyer?
Consider the following:
Comfort Level

- Are you comfortable telling the lawyer personal information? Does the lawyer seem interested in solving your problem?



Credentials

- How long has the lawyer been in practice? Has the lawyer worked on other cases similar to yours?



Cost

- How are the lawyer's fees structured - hourly or flat fee? Can the lawyer estimate the cost of your case?



City

- Is the lawyer's office conveniently located?


Not sure what questions to ask a lawyer?
Here are a few to get you started:
How long have you been in practice?
How many cases like mine have you handled?
How often do you settle cases out of court?
What are your fees and costs?
What are the next steps?
Want to check lawyer discipline?
It is always a good idea to research your lawyer prior to hiring. Every state has a disciplinary organization that monitors attorneys, their licenses, and consumer complaints. By researching lawyer discipline you can:
Ensure the attorney is currently licensed to practice in your state
Gain an understanding of his or her historical disciplinary record, if any.
Determine the seriousness of complaints/issues which could range from late bar fees to more serious issues requiring disciplinary action.