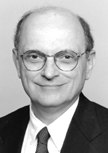 Richard J. Hindlian - Boston, MA
One Boston Place Boston, MA 02108- 4407
Boston Tax Lawyer
Overview
More
...
Richard J. Hindlian has practiced law in Boston, Mass. for his entire career and before that was an accountant with Ernst & Young in Boston, for several years.

Mr. Hindlian concentrates his practice in taxation, primarily including employee benefit plans, corporate finance and commercial law for publicly held and private corporations, banks, individuals, and nonprofit corporations and public entities in connection with a wide variety of transactions including mergers and acquisitions, public and private offerings of debt and equity securities, venture capital financings, leveraged buyouts, ESOPs and other qualified plans, individual retirement accounts, equipment leasing transactions, and other commercial matters, tax litigation, estate planning, and foreign investments made in the United States and overseas.

Mr. Hindlian has extensive experience with all aspects of plan sponsor employee benefits work, including the design, qualification and implementation of pension, 401(k), profit sharing and other qualified plans, stock options and similar equity oriented plans, corporate mergers and acquisitions and plan transfers, mergers and terminations, fiduciary matters, executive compensation, nonqualified deferred compensation arrangements and ERISA related litigation. He has also represented state government sponsored plans that are exempt from ERISA. These services have also included the creation and management of section 457(b) and 457(f) plans for tax-exempt organizations, and governmental employer pension plans. Mr. Hindlian's practice often includes representation of clients in matters with the Internal Revenue Service and U.S. Department of Labor, as well as the PBGC.

Mr. Hindlian also has been actively involved with welfare benefit plans, flexible benefit plans and the rules relating to COBRA continuation coverage under such plans. He has experience with the design, implementation, operation and communication of welfare benefit plans, and has been involved with such benefit plans in connection with many matters, including serving as an expert witness in federal court.

He has lectured at seminars on tax, employee plans and business topics including the New England Federal Tax Institute, and he was a member of the Massachusetts High Technology Counsel from 1984-87. He received the highest single score on the Massachusetts Bar Examination, and received an award for such distinction. He was a member of the U.S. Army (JAG) Reserves for six years.
Write Your Review
Fields marked with an * are required
How do I choose a lawyer?
Consider the following:
Comfort Level

- Are you comfortable telling the lawyer personal information? Does the lawyer seem interested in solving your problem?



Credentials

- How long has the lawyer been in practice? Has the lawyer worked on other cases similar to yours?



Cost

- How are the lawyer's fees structured - hourly or flat fee? Can the lawyer estimate the cost of your case?



City

- Is the lawyer's office conveniently located?


Not sure what questions to ask a lawyer?
Here are a few to get you started:
How long have you been in practice?
How many cases like mine have you handled?
How often do you settle cases out of court?
What are your fees and costs?
What are the next steps?
Want to check lawyer discipline?
It is always a good idea to research your lawyer prior to hiring. Every state has a disciplinary organization that monitors attorneys, their licenses, and consumer complaints. By researching lawyer discipline you can:
Ensure the attorney is currently licensed to practice in your state
Gain an understanding of his or her historical disciplinary record, if any.
Determine the seriousness of complaints/issues which could range from late bar fees to more serious issues requiring disciplinary action.