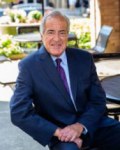 Jay B. Levin - New London, CT
75 State StreetNew London, CT 06320
New London Government Relations Consulting Lawyer
Our office remains open, and in response to COVID-19 we have expanded our options for remote consultations and virtual meetings. Please contact our office to discuss what meeting option best fits your situation. Call 860-271-2290.
Overview
Jay B. Levin serves as of counsel at Suisman Shapiro Attorneys-at-Law. He is principally engaged in government relations consulting.
...
More
Jay B. Levin serves as of counsel at Suisman Shapiro Attorneys-at-Law. He is principally engaged in government relations consulting.
...
Jay B. Levin serves as of counsel at Suisman Shapiro Attorneys-at-Law. He is principally engaged in government relations consulting.
Mr. Levin attended Connecticut College in New London, graduating Magna Cum Laude. After attending the University of Connecticut School of Law he was appointed the first full-time Deputy Assistant State's Attorney in New London County. He served on boards of the New London County Day School and Big Brothers and Big Sisters (which he ultimately chaired). He also served for many years as the legal counsel to the Connecticut College Alumni Association, as well as presiding Justice for the New London Lodge of Elks. He became Chair of Zoning Board of Appeals and Chair of the Charter Revision Commission that created New London's Planning & Zoning, Water & Water Pollution Authority and Ethics Commission. Mr. Levin became deeply involved in charitable giving for the local New London Jewish Federation, becoming Chair of its fundraising efforts and President of the Federation. He was also selected to serve as the first member from New London of the Young Leadership Cabinet of the United Jewish Appeal. Mr. Levin currently serves on the Board of the Connecticut Landmarks Association and as Vice President of the Steel Point Special Taxing District Board.

In 1980, Mr. Levin left the State's Attorney's office and joined the firm of Dupont & Tobin, LLC, handling a wide range of matters in the general practice of law from business formation to wills and probate and family. His practice focused on matters of concern to working families from workers compensation to civil and criminal litigation. Encouraged by his partners he entered back into politics as a candidate having previously run campaigns and served for many years as a State Representative from New London. After narrowly losing the nomination for Attorney General to Richard Blumenthal, Mr. Levin founded a government relations practice in his New London law firm (then Tobin, Levin, Carberry & O'Malley and now TCORS). He then took that practice to Pullman & Comley, LLC. in Bridgeport, and in 1999 formed Levin, Powers & Brennan, LLC. in Hartford.

His new practice is called Jay B. Levin Government Relations Consulting. Among his many lobbying clients are PSEG Services Corporation of Newark, NJ; RCI Marine of Miami Beach, FL; Cross Sound Ferry and Thames Shipyard, New London, CT; Lawrence & Memorial Hospital, New London, CT; First Hartford Partners, Manchester, CT; Chamber of Commerce of Eastern Connecticut, Waterford, CT; National Reverse Mortgage Lenders Association, Washington D.C.; Elevators Local 91, East Hartford, CT; and lronworkers Locals 15 & 424.
Write Your Review
Fields marked with an * are required
How do I choose a lawyer?
Consider the following:
Comfort Level

- Are you comfortable telling the lawyer personal information? Does the lawyer seem interested in solving your problem?



Credentials

- How long has the lawyer been in practice? Has the lawyer worked on other cases similar to yours?



Cost

- How are the lawyer's fees structured - hourly or flat fee? Can the lawyer estimate the cost of your case?



City

- Is the lawyer's office conveniently located?


Not sure what questions to ask a lawyer?
Here are a few to get you started:
How long have you been in practice?
How many cases like mine have you handled?
How often do you settle cases out of court?
What are your fees and costs?
What are the next steps?
Want to check lawyer discipline?
It is always a good idea to research your lawyer prior to hiring. Every state has a disciplinary organization that monitors attorneys, their licenses, and consumer complaints. By researching lawyer discipline you can:
Ensure the attorney is currently licensed to practice in your state
Gain an understanding of his or her historical disciplinary record, if any.
Determine the seriousness of complaints/issues which could range from late bar fees to more serious issues requiring disciplinary action.