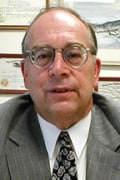 Gordon Erdenberger - Doylestown, PA
220 Farm LaneDoylestown, PA 18901- 4714
Doylestown Adoption Lawyer
Overview
...
More
...
Gordon Erdenberger has been assisting clients with legal advice and litigating civil cases for plaintiffs and defendants - from simple to complex - for more than 29 years in all the county courts of southeastern Pennsylvania and the Federal District Court in Philadelphia.

Newly based at the Farm office complex located just outside Doylestown off Route 202 in the county seat of Bucks County, our offices are easily accessible for all, with easy parking. We represent individuals and business entities in Bucks, Montgomery, Delaware, Northampton, Lehigh, Chester and Philadelphia counties.

You can access us electronically through our website (www.buckscountylawyer.com); by fax (215-489-5009); email (gerdenberger@buckscountylawyer.com); telephone (215-489-7506); or in person at The Farm @ Doylestown. We will respond promptly to all inquiries.

All consultations are confidential. We do not charge for initial consultations before we mutually agree to enter into a lawyer-client relationship.

If we do agree to a lawyer-client relationship, you will receive written confirmation of the arrangement and any fees to be charged. Our rates are competitive and reasonable.

You will receive timely and periodic reports on the status of your case. You will not have difficulty communicating with us or getting a prompt response.

You are not obligated to engage us as your attorneys unless you are comfortable with our proposals for your representation.

We stand ready to listen to your problem(s) and recommend solutions - whether you are an individual, a business entity or an insurance company; whether your problem involves real estate, personal injury, business, internet, consumer, family, legal documents, leases, contracts, discrimination, insurance policies, defective products, collections, professional malpractice or litigation of any kind.
Write Your Review
Fields marked with an * are required
How do I choose a lawyer?
Consider the following:
Comfort Level

- Are you comfortable telling the lawyer personal information? Does the lawyer seem interested in solving your problem?



Credentials

- How long has the lawyer been in practice? Has the lawyer worked on other cases similar to yours?



Cost

- How are the lawyer's fees structured - hourly or flat fee? Can the lawyer estimate the cost of your case?



City

- Is the lawyer's office conveniently located?


Not sure what questions to ask a lawyer?
Here are a few to get you started:
How long have you been in practice?
How many cases like mine have you handled?
How often do you settle cases out of court?
What are your fees and costs?
What are the next steps?
Want to check lawyer discipline?
It is always a good idea to research your lawyer prior to hiring. Every state has a disciplinary organization that monitors attorneys, their licenses, and consumer complaints. By researching lawyer discipline you can:
Ensure the attorney is currently licensed to practice in your state
Gain an understanding of his or her historical disciplinary record, if any.
Determine the seriousness of complaints/issues which could range from late bar fees to more serious issues requiring disciplinary action.