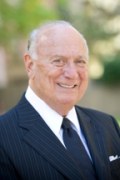 Allan A. Sigel - Los Angeles, CA
1125 Gayley AvenueLos Angeles, CA 90024
Los Angeles Consumer Protection Lawyer
Overview
...
More
...
Allan A. Sigel is a well known sole practitioner based in Los Angeles, California. Throughout his extensive career, Mr. Sigel has represented many celebrities and other well known personalities such as Bruce Springsteen, Dudley Moore, Mick Jagger, Richard Gere, Jamie Lee Curtis, June Allison, Senator Alan Cranston, Ed Masry, etc. Mr. Sigel began his career in law focusing mainly on criminal matters, including several death penalty cases. Over the years, Mr. Sigel's practice evolved into a mainly civil practice, involved in complex business and civil litigation matters. Mr. Sigel has successfully tried hundreds of jury trials as lead counsel, resulting in multi-million dollar verdicts. Mr. Sigel was co-counsel in the toxic tort litigation made famous by the movie "Erin Brockovich." Currently, Mr. Sigel devotes a majority of his practice to plaintiffs' class action lawsuits. Mr. Sigel's firm is AV rated, the highest rating given to attorneys, as rated by other attorneys and judges. In addition, Mr. Sigel has been selected by his peers as one of the "Best Lawyers in Los Angeles."
Write Your Review
Fields marked with an * are required
How do I choose a lawyer?
Consider the following:
Comfort Level

- Are you comfortable telling the lawyer personal information? Does the lawyer seem interested in solving your problem?



Credentials

- How long has the lawyer been in practice? Has the lawyer worked on other cases similar to yours?



Cost

- How are the lawyer's fees structured - hourly or flat fee? Can the lawyer estimate the cost of your case?



City

- Is the lawyer's office conveniently located?


Not sure what questions to ask a lawyer?
Here are a few to get you started:
How long have you been in practice?
How many cases like mine have you handled?
How often do you settle cases out of court?
What are your fees and costs?
What are the next steps?
Want to check lawyer discipline?
It is always a good idea to research your lawyer prior to hiring. Every state has a disciplinary organization that monitors attorneys, their licenses, and consumer complaints. By researching lawyer discipline you can:
Ensure the attorney is currently licensed to practice in your state
Gain an understanding of his or her historical disciplinary record, if any.
Determine the seriousness of complaints/issues which could range from late bar fees to more serious issues requiring disciplinary action.