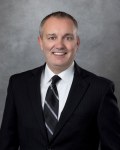 Carl A. Markovich - Noblesville, IN
1312 Maple AvenueNoblesville, IN 46060
Noblesville Criminal Defense (Felony and Misdemeanors) Lawyer
Overview
More
...
Carl is a graduate of Purdue University, graduating with honors, earning two Bachelors of Science Degrees in Financial Planning and Consumer Affairs. While at Purdue, Carl was a member and officer in the Sigma Alpha Epsilon social fraternity as well as a member of Kappa Omicron Nu National Honor Society.

Carl continued his education at the Indiana University School of Law – Indianapolis where he graduated cum laude in 1999.

Carl joined Richards, Boje, Pickering, Benner & Becker now Boje, Benner, Becker, Markovich & Hixson, LLP in 1997 as a law clerk. Carl was hired as an associate attorney with the firm following his admission to the Indiana Bar in 1999 and became partner in 2003. Carl's primary practice focuses in the areas of family law, criminal defense and juvenile delinquency matters. Carl has extensive experience in litigating high conflict family law matters as well as defending felony and misdemeanor criminal matters including OWI/DUI, controlled substance offenses, theft and battery. In addition to his work in family law, criminal defense, and juvenile defense, Carl also practices in the areas of personal injury, estate planning and general civil litigation.

Carl currently resides in Noblesville, Indiana with his wife, Julie, and their three children. He is actively involved in youth sports, formerly served on the Noblesville Youth Baseball Board of Directors, and also attends Genesis Church. Carl has served as Treasurer (2014-2015), Secretary (2016-2017), and Vice-President (2018-2019) for the Hamilton County Bar Association. Further, Carl is a member of the Indiana Public Defender Council and serves on the Hamilton County Juvenile Detention Alternative Initiative local steering committee.

Please do not hesitate to contact Carl for assistance in any of your legal needs.
Write Your Review
Fields marked with an * are required
How do I choose a lawyer?
Consider the following:
Comfort Level

- Are you comfortable telling the lawyer personal information? Does the lawyer seem interested in solving your problem?



Credentials

- How long has the lawyer been in practice? Has the lawyer worked on other cases similar to yours?



Cost

- How are the lawyer's fees structured - hourly or flat fee? Can the lawyer estimate the cost of your case?



City

- Is the lawyer's office conveniently located?


Not sure what questions to ask a lawyer?
Here are a few to get you started:
How long have you been in practice?
How many cases like mine have you handled?
How often do you settle cases out of court?
What are your fees and costs?
What are the next steps?
Want to check lawyer discipline?
It is always a good idea to research your lawyer prior to hiring. Every state has a disciplinary organization that monitors attorneys, their licenses, and consumer complaints. By researching lawyer discipline you can:
Ensure the attorney is currently licensed to practice in your state
Gain an understanding of his or her historical disciplinary record, if any.
Determine the seriousness of complaints/issues which could range from late bar fees to more serious issues requiring disciplinary action.