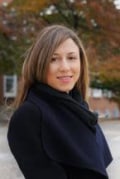 Grace Addabbo Gambino Esq. - Forest Hills, NY
118-21 Queens BoulevardSuite 306Forest Hills, NY 11375- 7209
Forest Hills Personal Injury Lawyer
Overview
Grace Addabbo Gambino graduated from St. John's University...
More
Grace Addabbo Gambino graduated from St. John's University...Grace Addabbo Gambino graduated from St. John's University,
summa cum laude
, with a Bachelor of Arts in English Literature in 2005. She was part of the St. John's University Honors Program and a member of the Phi Eta Sigma National Honor Society. In 2008, Ms. Gambino obtained her Juris Doctor degree from St. John's University School of Law, where she was a Senior Staff Member of the journal N.Y. Litigator, represented children in abuse and neglect cases as an intern for the law school's Child Advocacy Clinic, and was a research assistant for a prominent trusts and estates professor. Also, while at St. John's Law School, she received Awards for Excellence in Legal Writing, Advanced Writing on Condos Coops and Homeowner Associations, Law and Literature, and Entertainment Law. Ms. Gambino was admitted to the New York State Bar in January 2009. Upon graduation, she practiced for over five years at a large Manhattan law firm, where she represented insurance companies in medical malpractice and other lawsuits against physicians, hospitals, nursing homes and home healthcare companies. She also conducted insurance policy coverage analysis, drafted coverage opinions, researched jurisdictional trends in insurance litigation and monitored national tort reform campaigns. Ms. Gambino joined Addabbo & Greenberg in 2014. She focuses primarily on personal injury cases and civil litigation, but also assists in the defense of criminal cases. Ms.Gambino is trained in mediation and has negotiated many successful settlements.
Write Your Review
Fields marked with an * are required
How do I choose a lawyer?
Consider the following:
Comfort Level

- Are you comfortable telling the lawyer personal information? Does the lawyer seem interested in solving your problem?



Credentials

- How long has the lawyer been in practice? Has the lawyer worked on other cases similar to yours?



Cost

- How are the lawyer's fees structured - hourly or flat fee? Can the lawyer estimate the cost of your case?



City

- Is the lawyer's office conveniently located?


Not sure what questions to ask a lawyer?
Here are a few to get you started:
How long have you been in practice?
How many cases like mine have you handled?
How often do you settle cases out of court?
What are your fees and costs?
What are the next steps?
Want to check lawyer discipline?
It is always a good idea to research your lawyer prior to hiring. Every state has a disciplinary organization that monitors attorneys, their licenses, and consumer complaints. By researching lawyer discipline you can:
Ensure the attorney is currently licensed to practice in your state
Gain an understanding of his or her historical disciplinary record, if any.
Determine the seriousness of complaints/issues which could range from late bar fees to more serious issues requiring disciplinary action.